Rutgers University–Newark Debate Team Clinches First Championship of the Season and "Coach of the Year" Award
Media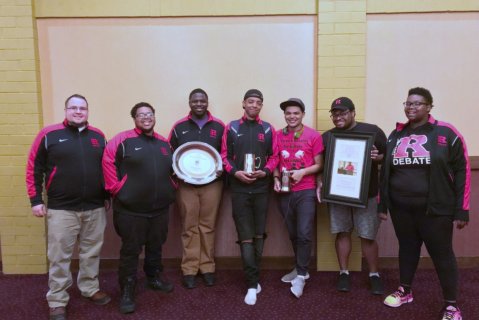 The Rutgers University-Newark Debate Team, housed at Rutgers School of Public Affairs and Administration (SPAA), earned its first championship of the season at Weber State University during Weber's back-to-back tournaments: The 21st Annual Val Browning Round Robin and the 5th Annual Mukai College Classic held September 26 to October 3. 
SPAA students Luis Carerra (BA'18) and Chaz Wyche (BA'19) competed at the invite-only Val Browning tournament with top national teams from Cornell University, Baylor University, Arizona State University, and Gonzaga University. The team won four out of eight rounds and Wyche was named 5th overall speaker.
The team then went on to compete and win the championship in the Mukai College Classic by defeating Cornell University in the final round and handing earlier losses to Baylor and Gonzaga. Carerra and Wyche finished the Mukai tournament with a 7-1 record and earned 8th and 6th speaker, respectively, out of 100 competitors.
At the conclusion of the tournaments, Weber State University awarded Coach of the Year to Willie Johnson, the debate team's head coach, for his hard work and dedication.
"When I initially began coaching, I wanted to provide students from diverse backgrounds with an opportunity to learn and grow as intellectuals through debate," Johnson said. "I've witnessed countless students win awards for their valor and drive in debate and even beyond, and to be rewarded and honored as coach of the year was both unexpected and extremely humbling."
Johnson said that the victory is also due to the efforts of Debate Team Director Chris Kozak, coaches Ryan Wash and Carlos Astacio, and former debate team champions Nicole Nave and Devane Murphy.
---
About Rutgers School of Public Affairs and Administration (SPAA)
The School of Public Affairs and Administration (SPAA) at Rutgers University–Newark educates and motivates students to choose careers in public service and administration through its innovative undergraduate and graduate degrees and professional and graduate certificate programs. Rutgers SPAA is highly ranked by U.S. News & World Report and is accredited by NASPAA – the Network of Schools of Public Policy, Affairs, and Administration, as well as being the first U.S. school to earn full international accreditation from ICAPA – The International Commission on Accreditation of Public Administration Education and Training Programs.