Rutgers University–Newark Scholarship Dinner Spotlights SPAA Scholars
Media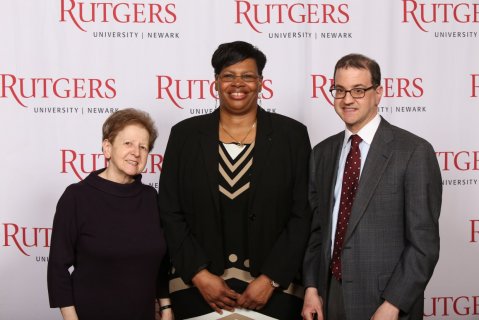 Gallery photos (Scholarship Dinner)
Gallery photos (Portraits)
The School of Public Affairs and Administration (SPAA) was well represented at Rutgers University–Newark's 2017 Scholarship Recognition Dinner on April 5. The dinner is an annual event hosted by RU-N's Chancellor's Office that connects RU-N students with privately funded scholarships to the donors who fund them.
SPAA's own Shane Fuller, a master's student, reprised his hosting duties for the second year in a row for an evening of celebration and recognition of academic excellence and philanthropy. 
"It's an honor to be asked to host the scholarship dinner twice," said Fuller. "In recent years, the university successfully launched programs that afford students the opportunity to attend the school for free or at a reduced cost. I am the recipient of a scholarship because of my position as a graduate student so I am grateful to be able to share my experience with countless other students." 
Fuller currently has a graduate assistantship for his work with Housing and Residence Life and received a Student Leader Scholarship last spring for his contributions to the university. 
"The Scholarship Dinner is such a wonderful opportunity for students to meet the donors who help make their education possible, and it's a great way for the donors to see how their contributions are being put to use," said Annie Virkus, associate dean for academic and student services at SPAA.
SPAA alumnus and adjunct professor Norman Eckstein (MPA '08) and his mother Lydia Eckstein were two of the donors in attendance. The Ecksteins established and support the Louis Eckstein Memorial Fellowship at SPAA – a scholarship in the memory of Louis Eckstein, father to Norman and husband to Lydia.
The dinner united the Ecksteins with this year's award recipient Dawn Odom (SPAA '18) who was awarded $2,000 for the spring 2017 semester of her graduate program. 
"[The event] was amazing," said Odom. "I just feel so honored and blessed."
"My mom and I enjoyed the festivities of the Scholarship Dinner," said Norman Eckstein. "We are happy that the Louis Eckstein Memorial Fellowship has been awarded to Dawn, who presents herself as an individual committed to public service."
Odom was one of several SPAA students at the event, along with Cassandra Brevil (BA '19), Endurance Ehimen (BA '17), Rehtul Jordan (BA '17), and Grace Appiah (BA '20).
Brevil is a student in the Honors Living-Learning Community (HLLC) and a recipient of the Clement A. Price Scholarship, named for the late historian and Rutgers University-Newark professor Clement Alexander Price. Ehimen and Jordan are both recipients of Albert and Janice Gamper Endowed Scholarships. Appiah is an HLLLC student and the recipient of the BOLD Women's Leadership Network Scholarship, a scholarship funded by the Pussycat Foundation and awarded to young women leaders. 
"So many students are working one or more jobs to pay for college," said Virkus. "Receiving a scholarship, no matter how small, can be life changing for a student. It gives a student the opportunity to devote more time to studying and research, purchasing books or supplies, and making education the priority."
About Rutgers University–Newark School of Public Affairs and Administration (SPAA)
The School of Public Affairs and Administration (SPAA) at Rutgers University-Newark, highly ranked by U.S. News & World Report and nationally and internationally accredited, motivates students to choose careers in public service and administration through its innovative degree and certificate programs. Rutgers SPAA generates knowledge and best practices in public affairs and administration while promoting accountability, transparency, and performance in the public and nonprofit sectors.