SPAA Center for Applied Appreciative Inquiry Certifies Second Cohort
Media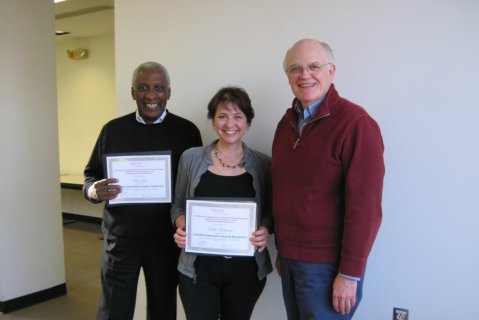 In its second year, the Center for Applied Appreciative Inquiry (CAAI) at Rutgers School of Public Affairs and Administration (SPAA) has certified two individuals after their completion of the eight-month program. Four individuals participated in the first cohort of the certificate program.
On Friday, Jan. 13, 2017, Sallie Glickman and Roy Lee Jr. received their Certificates in Appreciative Inquiry for Strengths-based Leadership and Innovation in the Public and Nonprofit Sectors. Both Glickman and Lee Jr. are company owners, with Glickman serving as the principal of her consulting firm, SJM Strategy, and Lee Jr. serving as the CEO of Solutions Learning, Inc.
"Participants come to an initial two-day Foundation of Appreciative Inquiry Workshop at the beginning of June, and then for the next eight months, they select a project that they want to work on that will improve an organization's effectiveness," said CAAI Director James Davy, distinguished practitioner in residence at SPAA. "They decide whether their project will be centered on organizational development, strategic planning, or leadership development, but the key is that they use appreciative inquiry as the intervention."
Davy defines appreciative inquiry (Ai) as a strength-based approach to organizational development that identifies organizational strengths and assets and how they can be leveraged for transformative change.
"In the beginning of Ai training, I was skeptical about this new planning approach because I am more familiar with the corporate model that says 'what's the problem and let's fix it,'" said Lee Jr. "After experiencing the Ai process of 'what's right, and let's expand on it,' I was sold, and will be adding it to my organization and leadership offerings."
Lee Jr. and Glickman worked directly with Davy during their program and consulted with him on a monthly basis to discuss their progress.  For her project, Glickman assisted Workforce Development Programs, an office within the Colorado Department of Labor and Employment that manages the state's workforce system. Using Ai, Glickman engaged the 75-member staff in developing core strategies for unifying Colorado's workforce development centers in streamlining implementation processes to speed up service delivery.
Lee Jr.'s project focused on creating a resource development and fundraising plan for a small Jersey City-based nonprofit that supports women who have been victims of domestic violence.
Both Glickman and Lee Jr. received their certificates at the conclusion of a two-day advanced Ai workshop with Davy, which involved in-depth analyses of their projects, as well as a final discussion about the design of Ai projects.
"The Center for Applied Appreciative Inquiry Certification Program merges theory and practice, and has amplified the impact of my own work with governments, for-profit organizations, and educational institutions," said Glickman. "I highly recommend it for anyone committed to enhancing their effectiveness in shaping and leading positive transformation."
The next term for the CAAI will begin in June 2017 and end January 2018. To register, visit https://spaa.newark.rutgers.edu/ai-certificate. If you are interested in learning more about the certificate program, please call James Davy at 732-754-8969.
About the Center for Applied Appreciative Inquiry
The non-credit Certificate in Appreciative Inquiry for Strengths-based Leadership and Innovation in the Public and Nonprofit Sectors provides students with an opportunity to learn how to apply Appreciative Inquiry (Ai) and the SOAR methodology (Strengths, Opportunities, Aspirations, and Results) for positive organizational change and innovation and strategic planning. Through coursework and fieldwork, students apply what they learn by designing an Appreciative Inquiry-based project unique to their organization or community.