SPAA PhD Candidate Mauricio Astudillo-Rodas Wins 2022 APSA Paul Volcker Junior Scholar Award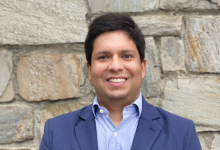 SPAA PhD candidate Mauricio Astudillo-Rodas has won the 2022 Paul Volcker Junior Scholar Award from the American Political Science Association (APSA) Organized Section for Public Administration for his proposal titled "Public Servants: Let's Talk about Transparency in the Workplace." He will receive the award at the 118th American Political Science Association's Annual Meeting & Exhibition, being held September 15-18, 2022, in Montréal, Québec, Canada.
Astudillo-Rodas' proposal, which is part of his dissertation, aims to study public servants' attitudes on transparency and accountability when using information and communications technology (ICT) tools in the workplace. The study considers transparency and accountability in the context of social media practices and the use of ICTs in government settings, and uses mixed methods to look at managers' and employees' attitudes about using this technology in the workplace. It also addresses the less-explored Latin American public sector organizations. 
The APSA Paul Volcker Junior Scholar Award selection committee unanimously selected Astudillo-Rodas' proposal to receive the award. The annual award provides funds for research related to public administration issues affecting governance in the United States and abroad. Proposals are judged on their potential to shed new light on important public administration questions, their scholarly and methodological rigor, and their promise for advancing practice and theory development.