Undisputed Nat'l Champs: RU-N Debate Team Wins Back-to-Back National Championships
Media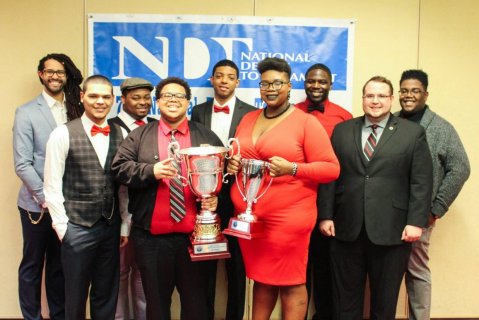 The Rutgers University–Newark Debate Team, housed at the School of Public Affairs and Administration (SPAA), has become only the second team in U.S. collegiate debate history to win both the Cross Examination Debate Association (CEDA) National Tournament and the National Debate Tournament (NDT) in a single season.
Veteran debate pair Devane Murphy (SPAA '19) and Nicole Nave (SPAA '19) won both tournaments, defeating close to 100 of the nation's best teams at the CEDA tournament at Johnson County Community College, and besting 78 teams at the 71st NDT at Kansas University.
"It is hard to overstate the magnitude of this achievement," said Rutgers University – Newark Chancellor Nancy Cantor. "In a sense, it is not a surprise to us because we know the brilliance of our debaters, the dedication, experience, and wisdom of our coaches, and the unbelievable strength and tradition of the Newark Public Schools debate program from which so many of our champion debaters have come. At the same time, it speaks volumes about the incredible talent to be found in Newark, as well as cities like it. In that sense, our debaters' accomplishment must be taken as both an incredible achievement for them personally and a clarion call to us all about what we have to gain by cultivating the talent right in front of us. We could not be more proud of them."
Newark Mayor Ras J. Baraka echoed these sentiments. "This is an important victory not just for the Rutgers-Newark debate team but for all Newark residents," he said. "For too long, Newark has been the victim of an outrageously false narrative that says our schools are failing and our graduates are not qualified. Nothing could be further from the truth. Our public schools graduate talented students who go on to the best colleges, including Rutgers-Newark, and many students learn debating skills starting as early as elementary school. This victory highlights the outstanding talent of young people in Newark and the extraordinary commitment of Rutgers-Newark to our city and our youth."
At the CEDA tournament (March 16 – 21), Murphy and Nave clinched the championship in a decisive 8-1 victory in the final round over the top seeded University of Missouri-Kansas City. Their victory marked the first time an RU-N Debate Team has won a national debate championship in the history of the university's debate program.
Murphy and Nave's efforts earned fourth place speaker and first place speaker awards, respectively. Nave also won the All-American Award for her debate and academic success, joining the ranks of only 30 debaters per year who receive the honor.
Nave gave a record-setting performance by earning a perfect score (30 points) in five out of her eight debates – the highest number of perfect scorings earned at an individual debate at a CEDA national championship tournament. Nave's win made her the second Rutgers debater – the first being former RU-N student Elijah Smith – and the second black woman to win top speaker at a CEDA national championship tournament.
The RU-N debate program earned its best CEDA ranking to date with a 7th place national ranking – the highest rank the program has ever held. Its ranking surpasses its 2016 CEDA ranking at 10th place and cements the program as one of the best debate programs in the nation two years in a row.
A week after their CEDA win, Murphy and Nave continued their historic run at the prestigious National Debate Tournament (March 24 – 27) held at the University of Kansas where they triumphed over Georgetown University in a 4-1 decision. As a fourth seeded team, they dominated the tournament in a string of victories over nine universities, including Emory University, the University of Georgia, Wake Forest University, the University of Southern California, the University of Missouri-Kansas City, and Kansas University. 
Murphy and Nave ended the tournament with a 1-2 finish in the speaker awards with Murphy winning top NDT speaker. They were the first black partnership to win the coveted top two speaker awards, with Nave being the first black woman to win second speaker at the NDT. Nave and Murphy are also the second black duo to win the championship,  the first being former RU-N student Elijah Smith and current RU-N coach Ryan Wash.
"Debate is a team sport, and the hard work, teamwork, and commitment of everyone involved in the coaching and management of the program allowed us to capture two national championship titles in a single season," said Chris Kozak, debate team director. Devane and Nicole, in their historic victories, are truly the undisputed national college debate champions for 2017."
Kozak noted that the team's success would not have been possible without his team of coaches – Willie Johnson (head coach), Ryan Wash, and Carlos Astacio (SPAA '14) – who scouted debates, devised and adjusted strategies, and set the stage for the team's victories. Wash was the primary coach for Murphy and Nave at both CEDA and the NDT. Wash received the Championship Coach Award at the NDT after the final round victory.
The team of Chaz Wyche and Luis Carrera also represented RU-N at the national championship tournaments. At the CEDA tournament, they had a 6-2 record and sixth seed ranking before losing in a close 2-1 decision in the double-octofinal (top 32 teams) round to the University of Nevada-Las Vegas. Carrera won the 12th place speaker award and was named a national debate scholar for his debate and academic success, and Wyche won the sixth place speaker award. At the NDT, Wyche and Carrera went a respectable 4-4 and contributed to Murphy and Nave's final round victory through debate scouting and preparation assistance for the team.
About Rutgers University–Newark Debate Team
The Rutgers University-Newark Debate Team, founded in 2008, is sponsored by the School of Public Affairs and Administration (SPAA) and the Office of the Chancellor, Newark.
About Rutgers University – Newark School of Public Affairs and Administration (SPAA)
The School of Public Affairs and Administration (SPAA) at Rutgers University-Newark, highly ranked by U.S. News & World Report and nationally and internationally accredited, motivates students to choose careers in public service and administration through its innovative degree and certificate programs. Rutgers SPAA generates knowledge and best practices in public affairs and administration while promoting accountability, transparency, and performance in the public and nonprofit sectors.
About Rutgers University – Newark
Rutgers University - Newark (RU-N) is a diverse, urban, public research university that is an anchor institution in New Jersey's largest city and cultural capital. Nearly 11,500 students are currently enrolled at its 38-acre campus in a wide range of undergraduate and graduate degree programs offered through the College of Arts and Sciences; University College; the Graduate School; Rutgers Business School – Newark and New Brunswick; Rutgers Law School, Newark; the School of Criminal Justice; and the School of Public Affairs and Administration. An engine of discovery, innovation, and social mobility, RU-N has a remarkable legacy of producing high-impact scholarship that is connected to the great questions and challenges of the world. A pivotal strength is that RU-N brings an exceptional diversity of people to this work—students, faculty, staff, and community partners—increasing it innovation, creativity, engagement, and relevance for our time and the times ahead. For more information please visit www.newark.rutgers.edu.