Rutgers SPAA Celebrates the Class of 2023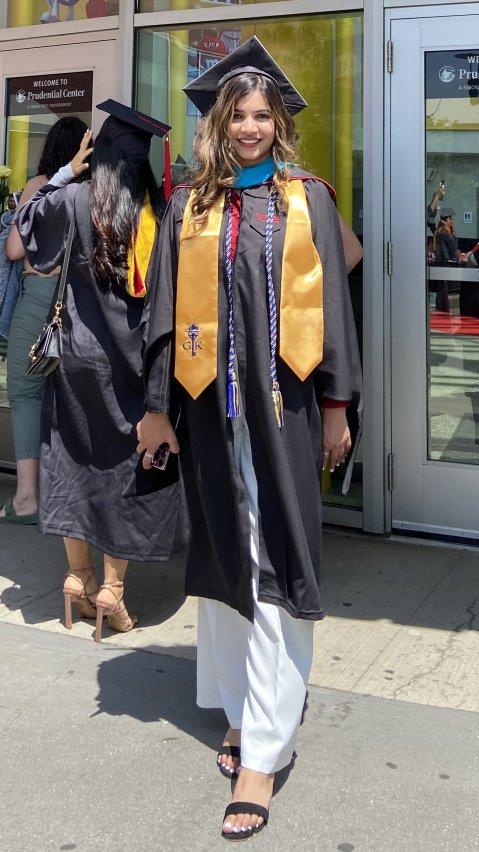 Rutgers SPAA is proud to honor our 2023 graduates!
On Tuesday, May 16, more than 180 School of Public Affairs and Administration (SPAA) graduates were honored and recognized as part of Rutgers University–Newark's Commencement 2023 held at the Prudential Center in Newark, NJ. SPAA Assistant Teaching Professor Dr. Michael Dillard carried the gonfalon for the school in the faculty procession. Internationally acclaimed jazz artist, composer, and educator Terence Blanchard was the ceremony speaker.
Preceding the university commencement ceremony, SPAA held a 2023 Graduation Celebration on May 11, and a PhD Hooding Ceremony was hosted by the RU-N Graduate School on May 15, both at the Paul Robeson Campus Center.
At SPAA's graduation celebration, the school's graduates, Pi Alpha Alpha Honor Society inductees, and 2023 SPAA Award winners were honored. The keynote speaker was Kareem Willis (BA'16, MPA'17, PhD'22), who is the first student to earn the BA, MPA, and PhD from the School of Public Affairs and Administration and is currently a presidential postdoctoral fellow at SPAA. Rutgers SPAA Assistant Teaching Professor Dr. Lois Warner (PhD'07) managed the induction of 36 graduates into Pi Alpha Alpha, the global honor society for public affairs and administration. In addition, the graduating 2022-2023 SPAA Student Ambassadors were acknowledged.
---
SPAA Grads 2023
As part of our celebration of our 2023 graduating students, we are pleased to share some of their personal stories.