Rutgers SPAA Receives 2019 Social Equity Award from NASPAA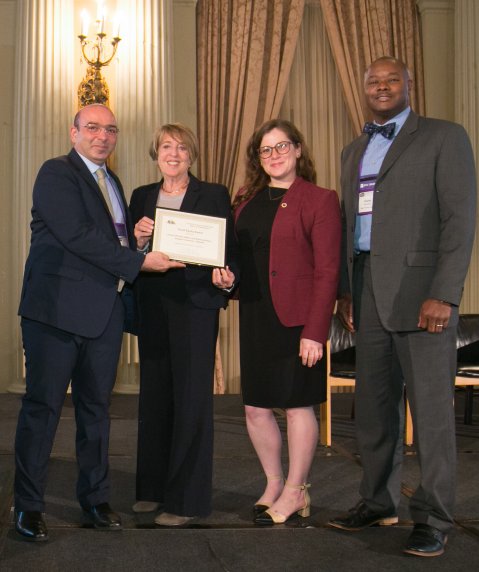 The School of Public Affairs and Administration (SPAA) at Rutgers University–Newark was awarded the 2019 Social Equity Award by the Network of Schools of Public Policy, Affairs, and Administration (NASPAA) on Thursday, Oct. 17 during a ceremony at the annual NASPAA conference. The award recognizes a program that exemplifies the highest standards in promoting and supporting social equity through research, teaching, and service by faculty and staff. 
Mohamad Alkadry, co-chair of the NASPAA Diversity and Social Equity Committee, presented the award to Dean Charles Menifield, Distinguished Research Fellow Marilyn Rubin, and Assistant Teaching Professor and MPA Program Director Rachel Emas.
"We have a very diverse student body, faculty, and staff at Rutgers University–Newark (#1 in the nation) and the School of Public Affairs and Administration is no exception," said Dr. Menifield. "However, we don't assume that subjects such as diversity, inclusion, and equity will occur naturally. The faculty and staff have done yeoman's work in addressing social equity in every respect and we are very excited to receive the Social Equity Award from NASPAA in recognition of our efforts. We hope that our courses, programs, practices, and community engagement efforts serve as a positive example to other programs that seek to address the issue."
SPAA has a proud history of making meaningful contributions to scholarship, diligently preparing students, and thoughtfully serving the diverse student body, the city of Newark, and beyond while practicing and promoting social equity through various activities and initiatives including: