Dr. Kyle Farmbry Inducted as a 2021 Fellow by the National Academy of Public Administration (NAPA)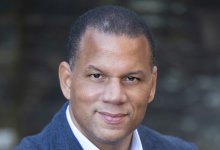 Dr. Kyle Farmbry, professor at the School of Public Affairs and Administration (SPAA) at Rutgers University–Newark and newly named 10th president of Guilford College, has been elected to the National Academy of Public Administration's (NAPA) 2021 Class of Academy Fellows in recognition of his years of public administration expertise. Dr. Farmbry was one of 39 fellows inducted during NAPA's Academy Fall Meeting 2021.
NAPA is an independent, nonprofit, and non-partisan congressionally chartered organization established to assist government leaders in building more effective, efficient, accountable, and transparent organizations. The academy works with clients at all levels of government across the United States and the world.
"I am honored to be inducted into the National Academy of Public Administration," said Dr. Farmbry. "For decades, NAPA has played a critical role in advising numerous administrative agencies and public sector leaders on pressing issues facing communities in the United States and elsewhere."
Dr. Farmbry is integral to the history of Rutgers SPAA. Prior to serving as dean of the Graduate School at RU-N while still serving as a professor in the School of Public Affairs and Administration, he was the inaugural director of SPAA's undergraduate program in public service, which recently celebrated the 10-year anniversary of its first graduates. While in this role, Dr. Farmbry was instrumental in blending an undergraduate program focused on developing an ethos of public service with a curriculum based partially in the liberal arts. Over the past decade, the program has grown from having 10 student majors to more than 200. He was also one of few senior faculty to see Rutgers SPAA go from a department to a school in 2006 and shared his thoughts on the milestone during events to celebrate SPAA's 15th anniversary.
He is a lifelong academic leader and scholar of entrepreneurial development and global education. Recently, he was appointed to represent Rutgers University–Newark in launching a $500,000 grant from the U.S. Embassy, University of Pretoria, and RU-N to strengthen United States-South Africa Higher Education Network. He was also awarded a stipend by the IBM Center for The Business of Government to produce a report which responds to key public sector challenges as part of their efforts to stimulate and accelerate the pro­duction of practical research that benefits public sector leaders and managers.
Widely published, Dr. Farmbry's work has appeared in Public Administration Review, Journal of Public Affairs Education, and Administrative Theory and Praxis. His books include Migration and Xenophobia: A Three Country Exploration (Lexington Books, 2019); The War on Poverty: A Retrospective (Rowman and Littlefield, 2014); Crisis, Disaster, and Risk: Institutional Response and Emergence (M.E. Sharpe, 2012); and Administration and The Other: Explorations of Diversity and Marginalization in the Political Administrative State (Rowman and Littlefield, 2009). He has presented his research throughout the United States, as well as in Australia, the United Kingdom, Sweden, the Netherlands, and South Africa. He has also served as a training facilitator for the U.S. Department of State in Kenya and Malawi.
Dr. Farmbry obtained his doctorate of philosophy in public administration, his master's in public administration, and his bachelor's degree in international affairs from The George Washington University. In 2013, he earned his juris doctorate from Rutgers Law School. 
"I am very pleased to welcome Kyle Farmbry to the academy's 2021 class of fellows," said Terry Gerton, president and CEO of the academy. "Our distinguished fellows are nationally recognized for their expertise in the field of public administration and Kyle is no exception. As government at every level continues to manage the impact of the COVID-19 pandemic in addition to addressing public concerns regarding equity, the environment, the nation's fiscal health and others, we welcome his experience and perspective as we work collaboratively to find intergovernmental solutions to the Grand Challenges in Public Administration."
Selection of the academy's new fellows follows a rigorous review of the individual's contributions to the field of public administration and policy. A fellows nominating committee makes its recommendations to the full fellowship, which then votes on those individuals to be elected. The 2021 class joins more than 940 academy fellows – including former cabinet officers, members of congress, governors, mayors and state legislators, as well as prominent scholars, business executives, and public administrators.