SPAA's Summer Service-Learning Internship Course Thrives Despite COVID-19 Pandemic
Media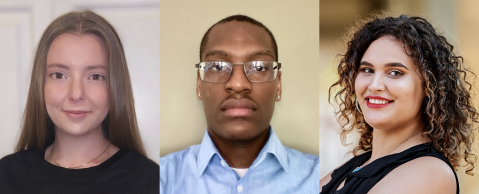 This summer, 18 students participating in SPAA's undergraduate service-learning internship course completed 150 hours of internship work despite the uncertainty caused by COVID-19 and the unexpected challenge of having to navigate remote learning and work simultaneously. The class, taught by SPAA Assistant Teaching Professor Michael Dillard, ensured that the internship experience was a seamless one where students could utilize the weekly virtual class to navigate through their own internship challenges and explore more possibilities to improve their own skillsets.
Supported by SPAA's Writing and Career Development Center, directed by Terry Hall, students were provided with various resources and tools, including resume and cover letter templates, assistance with "elevator pitches," and advice for navigating networking events. The center also provided information about job platforms such as Handshake, a Rutgers University–Newark employment site resource, to continue looking for more opportunities.
From this summer's class, 90% will graduate this year with a Bachelor of Arts in Public and Nonprofit Administration from SPAA. Half of these graduates will be continuing their studies by joining SPAA's Master of Public Administration (MPA) program.
On Aug. 4, 2020, Dr. Dillard hosted students, internship supervisors, and SPAA family at a virtual event to celebrate the students' accomplishments and acknowledge the role of the internship supervisors in helping undergraduate students navigate these challenging times. He spoke about how SPAA prepares students to deal with challenges that might be unique to nonprofit, community, and government organizations. "SPAA is doing everything to prepare students to become public servants, public leaders, and change agents in their own community," said Dr. Dillard. "The program helps them connect the dots from theory to practice and understand what they really want to do."
The virtual event was also a testament to Dr. Dillard's multi-faceted class and how students have benefitted with not just a work opportunity, but also skills and advice that will help them in their future careers. "Professor Dillard assisted me with every aspect of the internship, whether it was walking through the steps, issues, and challenges, or pushing me to keep going when having a doubt," said SPAA undergraduate student Gabriella Van Wyck, who interned at Moving For Life, a health organization that brings dance exercise classes to people challenged by aging and cancer. "This helped boost my self-confidence and helped me explore this opportunity more."
SPAA undergraduate student Ashly Sanchez Sanz, who interned at The Borgen Project, an organization that fights global poverty, was appreciative of the mentoring aspect of the seminar class. "It helped in different ways. I got guidance on how to create my elevator pitch as my internship required me to talk about the organization and its work to different types of agencies," she said. "The class also helped me build my resume and leadership skills, and, most importantly, helped me to vocalize the things I needed from my own site supervisor." She added, "Professor Dillard emphasized that we have to be at the top of our game."
All throughout, students felt that the experience wasn't hindered by the pandemic situation that forced all activities to be done remotely. "While it's not the same as an in-person class, Professor Dillard was great at making it like you were talking to him in person," noted  Terrell Williams, a SPAA undergrad student who interned at NJ Transit in the Talent Acquisition Department. "And while all of my internship activities were done remotely – meeting with candidates and my internship supervisor was all done by video conferencing and phone – I still feel that I got a lot out of this experience. In fact, it helped me realize that working in human resources is the career path I could see myself in. I would like to follow in my supervisor's footsteps and become a director of a talent acquisition department for a big organization like NJ Transit."