Global Conference on Transparency Research (GCTR)
Media

The 7th Global Conference on Transparency Research will take place 19-21 May 2021 and will be held at the Copenhagen Business School in Denmark. The theme for the conference is "Rethinking Transparency: Challenging Ideals and Embracing Paradoxes." The conference website and call for papers is available here.
The Global Conference on Transparency Research (GCTR) is the preeminent conference bringing together leading scholars from throughout the world to collectively advance our understanding of the impact and implications of transparency policies that involve governments, either directly or indirectly. The GCTR involves scholars from a wide range of fields including sociology, anthropology, political science, public administration, economics, political economy, journalism, communication sciences, business, history, philosophy, and law who study issues of governmental transparency.
Transparency scholarship has become a vibrant area of research, connecting an increasingly diverse set of disciplines such as organization, communication, public administration, journalism, political science, sociology, anthropology, law, business, and philosophy. Over the past years, studies have examined different mutations of transparency, particularly fiscal transparency, freedom of information legislation, open government, e-government, digital surveillance, corruption, ratings, rankings, and benchmarking. Many of these studies address the broader significance of transparency for society, organizations, and individuals and unveil both positive and negative consequences of transparency practices. In parallel a host of conceptual contributions theorize transparency from different disciplinary, theoretical, and epistemological perspectives, emphasizing the promises and ideals but also the perils and paradoxes associated with the ideal. The 7th GCTR will take stock of what we know about the up- and downsides of transparency by bringing together theoretical, normative, and empirical research and spur debates between the different perspectives. 
For more information on the planning of the conference, please contact: Dr. Leopold Ringel, University of Bielefeld, leopold.ringel@uni-bielefeld.de and Dr. Mikkel Flyverbom, Copenhagen Business School mf.msc@cbs.dk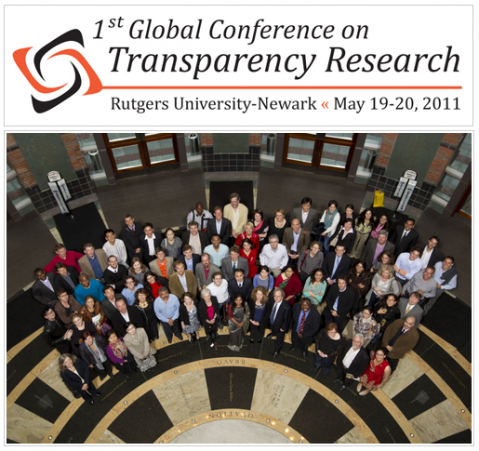 The Standing Executive Committee of the Global Conference on Transparency Research consists of: A.J. (Albert) Meijer (Utrecht University), Suzanne Piotrowski (Rutgers University), Alasdair Roberts (University of Missouri), and Jean-Patrick Villeneuve (University of Lugano).
The 1st Global Conference on Transparency Research (1stGCTR) was held at Rutgers University-Newark on May 19-20, 2011 via the direction of Dr. Suzanne Piotrowski, Associate Professor at the School of Public Affairs and Administration, Rutgers University–Newark. The second was held in Utrecht, Netherlands (2012); the third at HEC Paris, France (2013); the fourth at USI Lugano, Switzerland (2015); the fifth at the University of Limerick, Ireland (2017), and the sixth at FGV in Rio de Janeiro, Brazil (2019).