Global Conference on Transparency Research (GCTR)
Media

The Global Conference on Transparency Research (GCTR) is the preeminent conference bringing together leading scholars from throughout the world to collectively advance our understanding of the impact and implications of transparency policies that involve governments, either directly or indirectly. The GCTR involves scholars from a wide range of fields including sociology, anthropology, political science, public administration, economics, political economy, journalism, communication sciences, business, history, philosophy, and law who study issues of governmental transparency.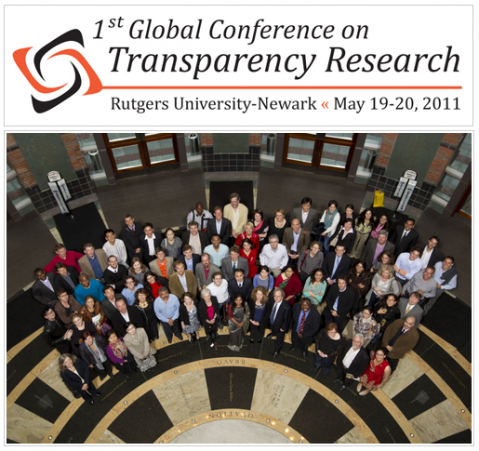 The Standing Executive Committee of the Global Conference on Transparency Research consists of: A.J. (Albert) Meijer (Utrecht University), Suzanne Piotrowski (Rutgers University), Alasdair Roberts (University of Missouri), and Jean-Patrick Villeneuve (University of Lugano).
The 1st Global Conference on Transparency Research (1stGCTR) was held at Rutgers University-Newark on May 19-20, 2011 via the direction of Dr. Suzanne Piotrowski, Associate Professor at the School of Public Affairs and Administration, Rutgers University–Newark. The second was held in Utrecht, Netherlands (2012); the third at HEC Paris, France (2013); the fourth at USI Lugano, Switzerland (2015); and the fifth at University of Limerick, Ireland (2017). 
The 6th GCTR will be held at The Schools of Administration and Law at the FGV in Rio de Janeiro, Brazil on June 26 and 27th, 2019. Information on the conference and the call for proposals can be found here.