Rutgers SPAA Classes of 2020 and 2021 Come Together to Celebrate Commencements In-Person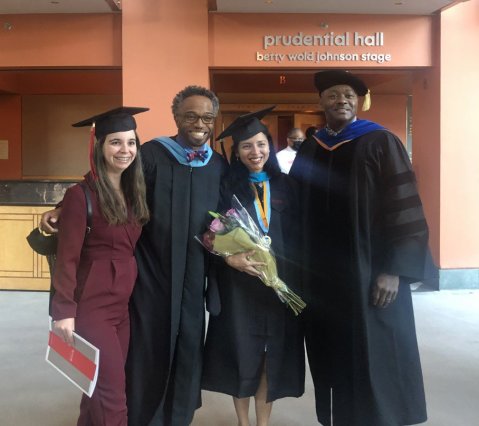 Rutgers School of Public Affairs and Administration graduates from the classes of 2020 and 2021 finally had the opportunity to celebrate their commencements in-person after missing out on the rite of passage the last two years due to the pandemic. Rutgers University–Newark officially conferred degrees via virtual graduations on May 20, 2020 and May 16, 2021, and SPAA virtually celebrated the classes of 2020 and 2021, but on November 8, 2021, SPAA graduates were at last able to walk across the stage at the New Jersey Performing Arts Center (NJPAC) and commemorate the occasion alongside family, friends, and the school's administration.
"At long last graduates, it's time for you to take your rightful place on this grand stage as we recognize your accomplishments at Rutgers University–Newark!" said Dr. Charles Menifield, dean of the School of Public Affairs and Administration. "This commencement ceremony represents not just your academic achievements, but your courage, determination, and willpower too," he said.
After the prolonged delay, graduates were eager to participate in their much-deserved moment. "It feels especially important to have this graduation ceremony because of everything that we have gone through in the last two years," said Elizabeth Somai (MPA'20). "I feel immensely proud to be able to celebrate with my fellow SPAA students."
Ashlie Claxton (BA'21) said, "I'm really happy to finally get to celebrate with fellow students and SPAA family members."
"It felt like the end of a chapter finally closing by being able to step across that stage," said Ana Olivera (BA'21). "As a first-generation student, this ceremony meant the world to me and my mom. It's only up from here!"
The ceremony programs noted the 2020 and 2021 SPAA Award student winners including Outstanding BA Student Award winners Anna Agbotse (BA'20) and Ana Olivera (BA'21); Outstanding MPA Student Award winners Nancy Pietrobon (MPA'20) and Michelle Amparbin (MPA'21); Outstanding PhD Student Award winners Danbee Lee (PhD'20) and Kareem Willis (BA'16, MPA'17); and E. Drexel Godfrey Award winners Salvador Bigay (MPA'20) and Jeffrey Layden (MPA'21), all honored for their high achievement in both academic and cocurricular pursuits.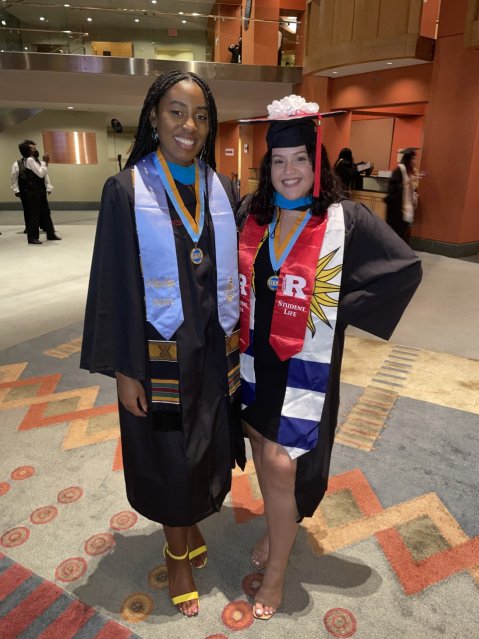 Dean Menifield bestowed some powerful words of encouragement on the graduates. "We want you to leave here today with renewed energy and vigor. Take all of the things that you learned over the last two years that made you more resilient and battle-tested as you embark on your next chapter," he said. "We have trained you to be strong leaders. So, go forth and live up to your abilities and skills. You are the voice of the future and we know that you will make us proud."