Charles E. Menifield Stepping Down as Dean of Rutgers SPAA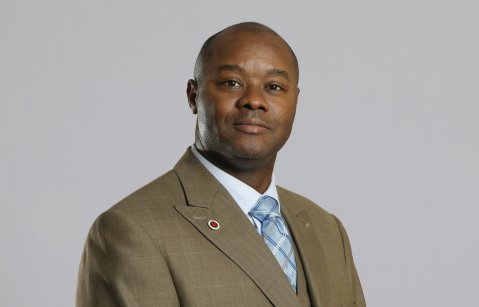 Dr. Charles E. Menifield, dean of the School of Public Affairs and Administration (SPAA) at Rutgers University–Newark since 2017, has announced that he plans to step down from the position at the end of June. He will be taking a year of sabbatical and then returning to the SPAA faculty in 2023. Dr. Gregg Van Ryzin, professor at Rutgers SPAA, will serve as interim dean for the second time.
Dr. Menifield, the second dean in the school's history, has worked to make SPAA a primary resource for community and public engagement in Newark and beyond. He oversaw the development of a new strategic plan for the school that helped facilitate the creation of the Office of Public Engagement and the SPAA Student Ambassador Program. He supported SPAA's focus on improving the Greater Newark community's access to state services with his involvement in establishing the New Jersey State Policy Lab, and helped to formalize a partnership with The Citizens Campaign to advance citizen leadership in Greater Newark. During his tenure at SPAA, the school received the 2021 Diversity Award and the 2019 Social Equity Award from the Network of Schools of Public Policy, Affairs, and Administration (NASPAA), and he saw the school's undergraduate program celebrate the 10-year anniversary of its first graduates and SPAA celebrate 15 years as a school at Rutgers University–Newark.
"It has been an honor serving as dean of Rutgers SPAA," said Dr. Menifield. "My experience at Rutgers has been transformational personally and professionally. During my 26-year career, my greatest reward has always been seeing students graduate and go on to pursue meaningful work. That reward did not change in Newark. In fact, given our student population, it is even more fulfilling to see the impact of a Rutgers degree on so many students. I was also happy to see the changes that we implemented to reinvigorate our grant and contract work. We reached a record number of grants and contracts in the last few years and the school is on a very good trajectory in that space. SPAA is poised for greatness, and I am honored that I had a role in helping the school fulfill its mission to serve our students, SPAA family, and the university at large."
In a joint statement, RU-N Chancellor Nancy Cantor and Executive Vice Chancellor and Provost Ashwani Monga expressed their gratitude to Dr. Menifield for his accomplishments while dean, noting he "bolstered the school's excellent national reputation while significantly advancing SPAA's profile by cultivating and elevating faculty, staff, and student accomplishments, especially their publicly engaged scholarship and commitments as an anchor institution. When he steps down at the end of June, he will leave SPAA stronger and positioned to increase its impact even further."
Dr. Menifield came to Rutgers SPAA from the University of Missouri-Columbia, where he was the associate dean for academic programs at the Harry S Truman School of Public Affairs. Prior to that, he was at the University of Memphis where he was a professor and associate professor and served as director of the public and nonprofit administration program. He earned his PhD in political science at the University of Missouri – Columbia, and both his master's in public policy and administration and his bachelor's degree at Mississippi State University.
His research interests lie primarily in the areas of budgeting and financial management, public health and welfare, and policing. Other areas include public management information systems, education finance, and public administration education. He has written two books on minority politics and two books on public budgeting and financial management. His current research examines factors that impact police killings.
An award-winning teacher, scholar, and author, Dr. Menifield is a former Ronald E. McNair Scholar and won the Missouri University Faculty Achievement Award in Diversity. During his tenure at SPAA, he was inducted as a fellow by the National Academy of Public Administration (NAPA), appointed by Gov. Phil Murphy to serve on the New Jersey Martin Luther King Jr. Commemorative Commission, selected as a 2021 recipient of the Donald C. Stone Service to ASPA Award, and awarded the 2021 NJ State Governor's Jefferson Award in Education, among other achievements.